Why should you concentrate on Productivity Enhancement than Employee Monitoring?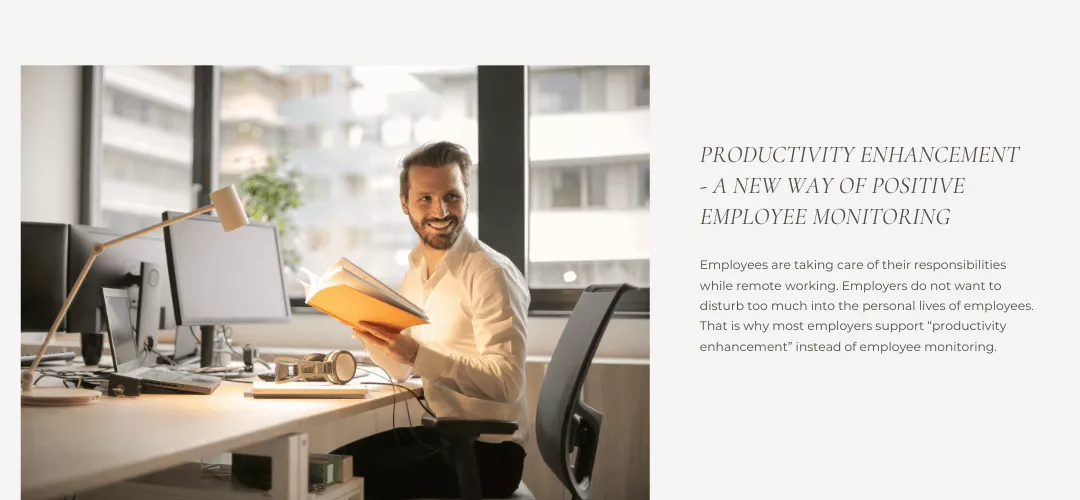 The Covid-19 pandemic caused a remote working situation everywhere in the world. 'Remote working' or 'Work From Home' has taken a toll on most of the companies' productivity. Still, some companies are not in a favour of implementing employee monitoring tools. Those companies believe they can increase productivity through employee monitoring but may lose employee engagement and trust.
How much Employee Monitoring is too Much?
Some companies follow the strict way of employee monitoring which most of the employees do not always nod to. There is a thin line that should not be crossed or it feels like monitoring getting on employees' nerves. Employee monitoring may get your employees habitual of some good work habits with reminders of break and priority tasks. Knowing that your employer is supervising your every move can make employees more stressed out and anxious. Too much employee monitoring can spread negativity in employees' minds and hurt your workplace environment. Not all employers believe in too much monitoring. Too much employee monitoring can spread negativity in employees' minds and hurt your workplace environment.
Employee Monitoring may involve tracking some for all of the following things:
Internet Usage
Use of Applications/URLs
Downloading Files
Software Downloads
Screenshots/Videos Capturing at Regular Intervals
Keyboard Strokes and Mouse Clicks Per Minute/Hour
Idle Time
Break Times
Emails Sent or Received
"Daily time tracking can decrease productivity leaks by 80%."
Source: Time Tracking Statistics
Productivity Enhancement – A New Way of Positive Employee Monitoring
Pandemic encouraged remote working, and employees have embraced the work from the home situation by taking advantage of flexibility. Employees are taking care of their responsibilities while remote working. Employers do not want to disturb too much into the personal lives of employees. That is why most employers support "productivity enhancement" instead of suffocating employee monitoring.
How Positive Employee Monitoring Helps:
Employees feel good about this kind of monitoring as they know that employers trust them and are not tracking their minute to minute moves.
It can help in discovering the workload so that you can distribute it evenly among employees or teams.
Monitor and ensure the best practices so that supervisors can chime in if needed.
Automate the timesheet filling and invoicing process according to the work hours calculation.
It helps managers to find out the need for applications or tools to speed up any process.
It helps employees to manage their own performance and can help them to get better raise and appreciation.
A simple Use Case with TimeChamp:
TimeChamp empowers you with customization, and you can stop the keystroke, mouse clicks, screenshot tracking as per your will. Instead, you can start focusing on the productivity data and measurement so that the top performers can be appreciated. Also, get productivity enhancement recommendations so that businesses can improve their process, employees' skills, and get much more out of our productivity enhancement tool.