Discover the Solution to Your Business Challenges with "Time Champ".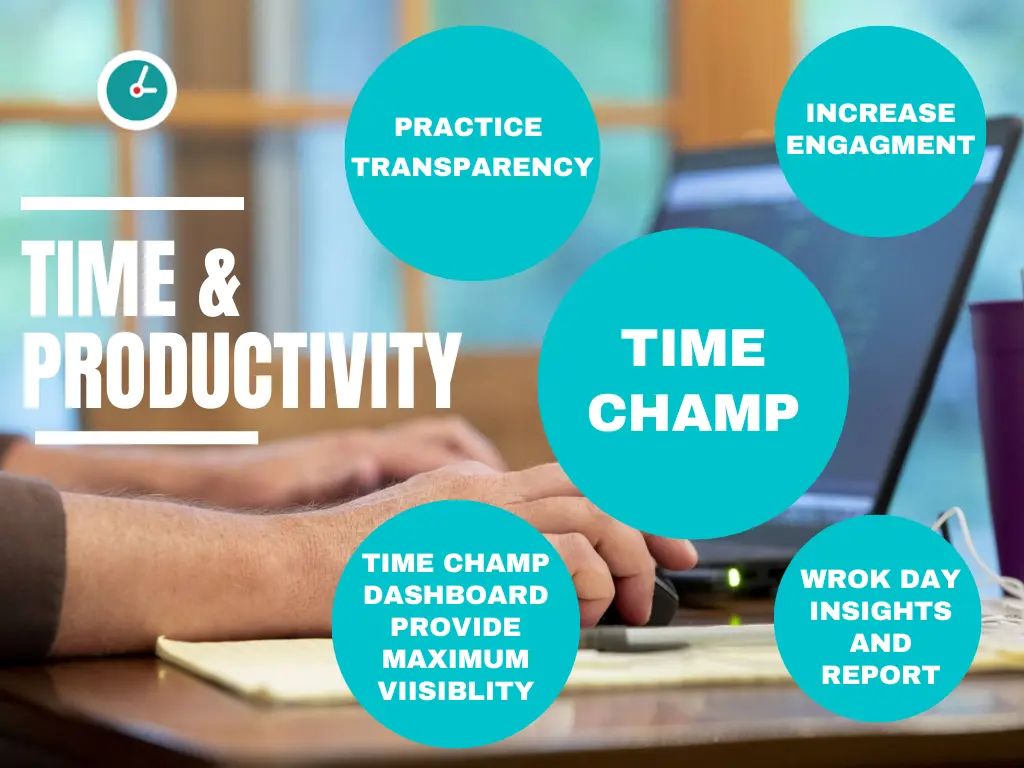 Introducing Time Champ- the Ultimate solution for making Businesses more efficient than ever before!
Time Champ is a revolutionary time and productivity tracking software designed to make Businesses more efficient. By allowing employeers to track their employees activities, manage their tasks and projects, and monitor their productivity, Time Champ helps organizations to streamline their operations and optimize their performance.
With its powerful features and user-friendly interface, Time Champ can help businesses of all sizes to overcome a range of challenges related to employee management, productivity management, project and task management.
There are a variety of business challenges that Time Champ can help you overcome with its powerful features.
Here are some of the major business challenges that Time Champ can help you address.
1. Employee Monitoring
One of the biggest challenges in monitoring a team is ensuring that everyone is working productively and efficiently.
Time Champ is an employee monitoring tool that has features, including live video streaming and screen recording, allow you to keep an eye on your team members and ensure that they are working on the tasks assigned to them.
2.Maintaining Employee Attendance
Another common challenge is to track employee attendance and ensuring that everyone is working the required hours. While taking manual attendance the managers have to spend lot time time which causes wastage of timme and some times manual attendance leads to mistakes.
Time Champ comes with an automated attendance tracking feature that can help you track your employees' work hours and ensure that they are complying with your organization's attendance policies.
3. Employee Productivity
Ensuring that your team is working productively and meeting their goals can be a significant challenge for any business.
Time Champ allows you to track employee productivity using a detailed timesheets that breaks down work hours into productive, unproductive, and idle categories. This helps you to identify areas where productivity can be improved and provides insights into how your team is spending their time.
Organizations can use this information to provide targeted training and support to help their employees improve their productivity.
4. Project Management
Keeping your projects on track and ensuring that everyone is working toward the same goals can be a significant challenge, especially when working on complex projects with multiple team members.
Time Champ includes robust project management features that can help you manage all aspects of your projects, including task assignments, deadlines, and resource allocation. You can also track project progress and generate reports to keep your team members informed.
5. Task Management
Assigning tasks, scheduling deadlines, and ensuring that everyone is working on the right tasks at the right time can be a significant challenge for any business.
Time Champ's Task management feature allows you to create and assign tasks to your employees, track their progress, and ensure that deadlines are met. You can also prioritize tasks and assign them to the most appropriate team members based on their skills and expertise.
6. Workplace Analysis
In today's fast-paced business environment, Workplace analysis is essential for identifying areas of improvement in the workplace and optimizing productivity, efficiency, and safety.
Time Champ is a powerful platform that provides a comprehensive suite of tools for workplace analysis, including employee-level, team-level, and company-level analytics. With features like attendance reports, productivity reports, and task and project status tracking, Time Champ can help organizations make data-driven decisions that can significantly improve workplace performance.
In Conclusion
Time Champ is an all-in-one solution that can help you streamline your business operations,improve productivity, and achieve your organizational goals.
With its powerful features like Emplyee monitoring, Automatic attendance,Productivity management,Project Management and intuitive interface, Time Champ can help you take your business to the next level.
So why wait? Sign up for Time Champ today and take your Business to next level!
Also Read: Communicate regularly with remote workers easily with Time Champ software! Download now!
Communicate with your teams from anywhere by utilizing the Time Champ application! Download it for free right now!