6 Ways Having a Remote Team Can Benefit Your Customers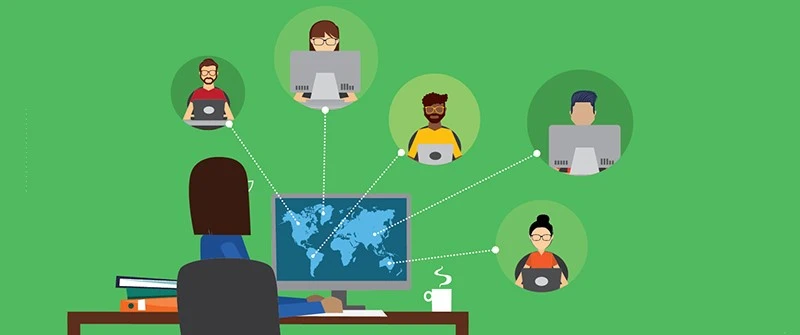 The advancement of technology has completely changed the way we do business.
Remote teams complete much of the same work that onsite teams do; they just do it while spread across time zones, either at home, in cafes, or while traveling.
In many cases, having a remote team doesn't mean less productivity, it means more.
People are communicating differently. They're shopping differently. And they're even working differently entirely, thanks to remote teams!
In this blog post, you'll discover five ways having a virtual team can benefit your customers. If you're looking for new ideas on how to approach your business, then read on...
1. Remote Teams Mean Lower Costs:
The cost of having an office is high and will continue as property prices rise. That means less money is available for implementing new technologies or hiring new staff.
The good news is you can still provide the same level of service by having a remote team! Working in a remote environment also uses less space because you can work from anywhere and communicate more easily through Skype, Google Hangouts, or similar services.
2. Remote Teams Create More Opportunities:
Many start-up businesses like to have as many people on the team as possible and work on as many different projects as they can.
But starting an entirely new division from scratch might be too expensive.
Instead of starting all over again, try using virtual teams to start small and grow organically. This is a great way to expand without having to buy as much equipment or have extra staff on the payroll.
3. Remote Teams Are More Flexible:
If you use virtual teams, there are fewer opportunities for micromanagement.
You can hire someone and then allow them to work from their own office or home, rather than within the business. If you don't need them anymore, you can stop paying for their services.
4. Remote Teams Are More Collaborative:
Taking on a remote team is also more collaborative because you don't have to be in the same location! The business can operate with as little or as many people as it needs.
Regardless of how many members you have, everyone can be involved in the work and contribute ideas and directions to the project.
5. Remote Teams Lead to Greater Innovation:
Working in a virtual environment also increases innovation by allowing the team to work together remotely.
With no boundaries between different divisions or locations, there are fewer obstacles for idea generation or new ideas that can spark new developments.
6. By Providing 24/7 Accessibility:
Due to many of technological innovations, this level of service is slowly but surely and unfortunately falling across many industries.
But others' cost-saving decisions could truly become a benefit for your company.
In the AI era when experts are coming with an idea of robot takeover, you can offer your customers intelligent support with actual specialists rather than chatbots. Who wouldn't want to accept that level of personal attention?
These are the way which will help your company if they are working remotely also but if you want to maintain different time zone employees you need a Time tracking software like Time Champ.
Time Champ is a perfect software to maintain remote employees and improve their productivity.
Time Champ Capabilities:
1. Creates Visibility
2. Creates Transparency
3. Provides Performance Metrics
4. Empowers employees
5. Productivity Improvement
6. Performance Analytics
7. Time Management
8. Automated Timesheet Approvals
9. Work Analytics
Take the next step
See Time Champ in action! Watch our on-demand demo webinar
Want to know more? Book a Demo
Don't have Time Champ? Sign up for a free account in minutes , no credit card required